Read the original article from Miss 604 here.
Fall in love with fall activities! In Coquitlam, you'll find plenty of things to do for free this season, both indoors and outdoors. From family-friendly park walks to geocaching, fishing and safe events that will spark creativity and add a taste of adventure to your 'to do' list.
Things to do in Coquitlam this Fall
Here are some ideas to keep busy this month and throughout fall.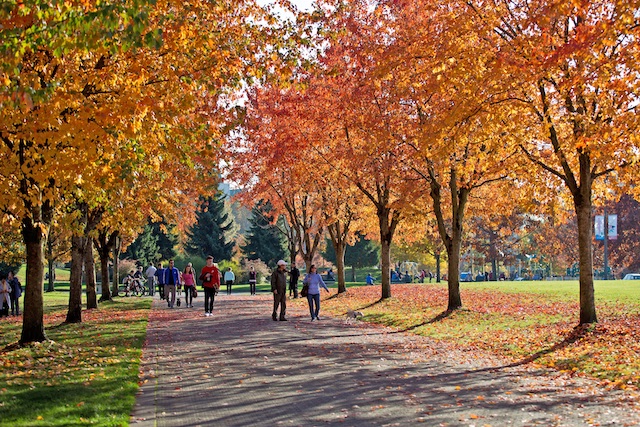 Kaleidoscope Arts Festival (see you in 2021!) 
This year's reimagined Kaleidoscope Arts Festival is heading into the community. As part of Culture Days, the multi-day Festival is providing pre-registered programs to showcase local artists and entertainers as the canvas. Register today for programs on Saturday, October 3rd.
Feeling creative? Head over to Opus Art Supplies (953 Brunette Ave) to pick up everything you need to flex those creative muscles.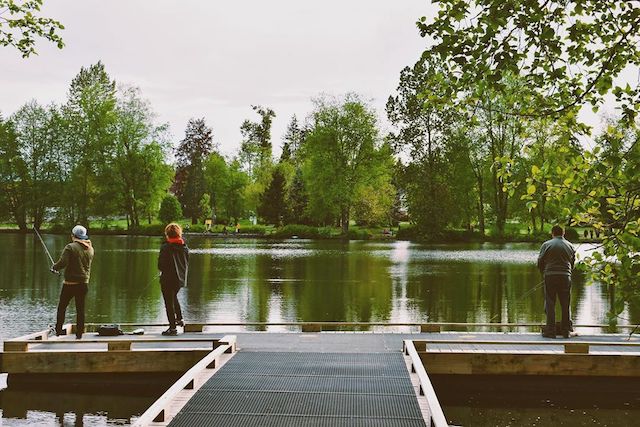 Go Fishing 
If you have fond memories of fishing when you were young, why not feel like a kid again? Fishing is easy in Coquitlam, with two lakes stocked with rainbow trout. Your options include Como Lake Park and Town Centre Park. Check out Tourism Coquitlam's website for tips to get started.
Where to get your gear: You'll need some basic supplies, including a rod, reel and lures, (we recommend visiting Sea-Run Fly & Tackle) plus a fishing licence. Got to visitcoquitlam.ca/fishing for local advice.
Scout Out New Spots for Trail Runs and Family Walks 
Coquitlam is home to more than 100 km of trails and routes. Take the trail less travelled and you might just stumble upon a lost lake (hint: Mundy Park). DeBoville Slough and the Coquitlam River Trail network are also ideal places to melt off those calories, although remember to keep a lookout for wildlife including bears.
Easy family walks include the lakeside loops around Town Centre Park (1.2 km) and Como Lake Park (1 km), both of which are flat and stroller- and wheelchair-friendly. For longer distances and some bird watching, try Colony Farm Regional Park, and for a more rugged adventure, check out Minnekhada Regional Park. Check out visitcoquitlam.ca/hiking for trail suggestions.
Where to treat yourself after: Coquitlam is known for its dessert spots! Check out our previous blog about where to get those icy treats or cakes.
Play Outdoor Foosball or Table Tennis 
How would you like to play a game of outdoor foosball or table tennis? Simply arrive at Town Centre Park with your own paddle and ball for a match – with a view. You'll find the tables near Percy Perry Stadium. There's also a set of tables at Burke Mountain Pioneer Park in the fast-growing Burke Mountain neighbourhood.
While you're in the area: Pop into Coquitlam Centre and Henderson Place Mall for a spot of shopping. Or stroll down Glen Drive, just steps away, for a wide selection of restaurants. Here's the inside scoop on how to explore City Centre like a local.
Find a Geocache
Geocaching is an outdoor treasure-hunting game that uses your cellphone's GPS. You simply navigate to a set of coordinates and then search for the geocaches (hidden containers). While you'll find geocaches throughout Coquitlam, for a forested adventure with plenty of caches, try Mundy Park. And if you want to learn some interesting facts, try the historic neighbourhood of Maillardville, home to 12 caches. To get started, register for free at geocaching.com.
While you're there: Hungry? After exploring Mundy Park, check out this list of nearby eat and drink options. In Maillardville, you'll find plenty of foodie options, including a cute café to get that coffee buzz going.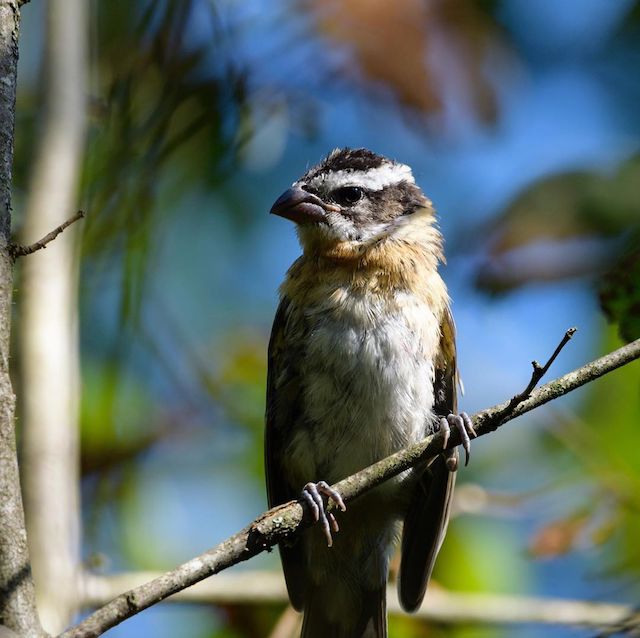 Spot Interesting Birds
It's that time of year when the leaves start to fall, making it easier to spot birds of prey on tree branches. This birding blog suggests various parks where you can spot owls, hawks and bald eagles while on your walk.
What you'll need: A good camera with zoom lens or binoculars. And maybe a waterproof jacket. Try Coquitlam Centre, located at Lincoln SkyTrain station for all your supplies.
Join a Virtual Book Club 
Sign up for the book club! Coquitlam Public Library is offering a virtual book club for adults over age 18, which meets every two weeks over Zoom.
What to pair your good book with: A nice cup of tea or some takeout. Find just what you're after on Travel Coquitlam's interactive Eat & Drink map.
Visit the Art Gallery 
At Art Gallery Evergreen, the exhibition Arrangements "explores the multiple significances held by cut flowers, ornamental gardens and wild plants." It runs until Oct. 5. The gallery is at Evergreen Cultural Centre, just steps from Lafarge Lake-Douglas SkyTrain Station.
Where to go for dinner after: Take your pick of cuisines from around the world. City Centre is a hub of great dining.
View the Art Exhibitions at Place des Arts
Looking for some artistic inspiration? Set up your free appointment to view the three exhibitions on display at Place des Arts until October 21st. They feature the paint and pastel works by Lyn Tretiak, acrylic paintings by Debbra Halyk and oil paintings by Marion-Lea Jamieson.
While you're in the area: Read the inside scoop to exploring Maillardville like a local.
Sign Up for Free Online Activities
The City of Coquitlam has moved ahead with registered programs and pre-registered drop-in activities at recreation facilities. Programs have been modified and health protocols are in place to protect staff and the public. Find programs and register online today.
Maillardville Community Centre is also offering a range of free virtual activities and workshops this fall. For kids, options include Music Time for Tots (age 1-3) and a virtual painting class. Adults can register for a virtual sleep clinic, workshop about homeopathy and more. Check out their website for registration information.
Where to get your supplies or workout gear: If you want to support your local independent retailer, check out this searchable list of small businesses.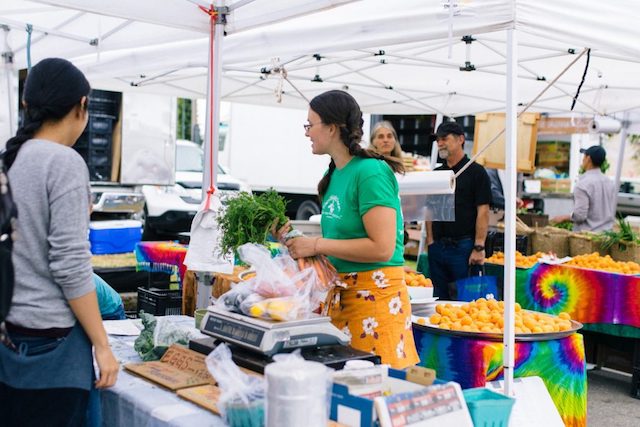 Shop the Coquitlam Farmers Market
October is the last possible month to pick up fresh produce and locally made goods at the Poirier Street Farmers Market. It's held each Sunday from 9:00am to 1:00pm outside Dogwood Pavilion at Poirier St and Winslow Ave. The market is free to peruse – although we must warn you it's unlikely you'll leave empty-handed!
Why you'll want to bring your wallet: Not only can you buy fresh produce from local growers, but you'll find great gift ideas for that special someone, while feeling good about supporting local.
Did we miss your favourite? Tell us about it! Share your photos on social media using #ExploreCoquitlam. For even more ideas about things to do, go to visitcoquitlam.ca.
Read more about Coquitlam