Read original article published by Miss 604. 
Brunch may just be the best meal of the day. Want eggs? Sure! Burgers? Why not? You can pick from the best of both breakfast and lunch menus, combined with a relaxing weekend ritual amped up by coffee and conversation.  So, where's your favourite place to brunch in Coquitlam? Share your pictures on social tagging #ExploreCoquitlam to recommend your go-to. And if you're stuck for ideas, here are some to try:
Let's Do Brunch: Must-Try Spots in Coquitlam
Brunch is their Specialty
Jimmy's Place: Nothing beats rolling out of bed and making your way for a hearty brunch that will set you up for the day. This North Road eatery calls itself a "breakfast and café restaurant," which means they have just the type of meals your mouth craves on a lazy weekend. Take out or dine-in service only.
Kook's Cooks: This place takes brunch seriously. Their menu features your must-have items, from omelettes, frittata or breakfast burritos to burgers, grilled cheese and kids' menu items. They call themselves the "neighbourhood brunch restaurant" and you'll find them in Austin Heights. Patio service available.
Morning Tide Eatery: How about Bennys, breakfast bowls and even breakfast pasta? The menu here is fantastic, not to mention their amazing selection of smoothies. They're located on Schoolhouse, in Coquitlam's entertainment district, surrounded by great shopping. Take out or dine-in service only.
For Fun with the Family
C-Market Coffee, Roastery + Kitchen: Check out the Chicken Waffle or their trio of benny's – the Seoul Benny, the Schoolhouse Benny or the Scandinavian Benny. Patio service available.
Café Hashtag: What do you get when you combine a croissant and a waffle? A CroWaffle of course! Combine it with syrup, eggs, fruit or any number of toppings or take it to go on a stick. Take out or dine-in service only.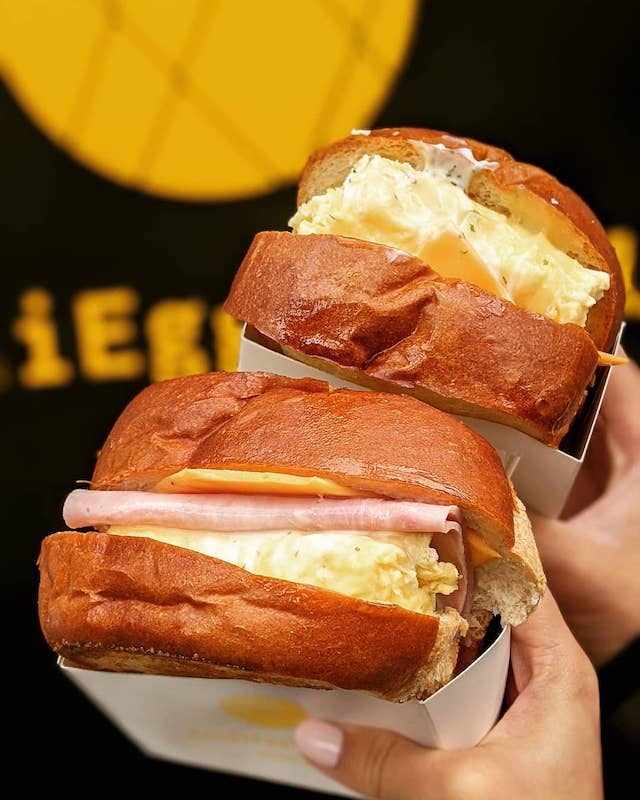 Cora Coquitlam: Cora has more than 100 menu ideas, but what they're probably best known for is the delicious servings of fruit featured with almost every dish. It's fresh, artful and colourful, located in City Centre. Take out or dine-in service only.
Coquitlam Grill: Their all-day breakfast options are insanely tempting, from the Warm Cinnamon Bun Breakfast (served with eggs, hash browns and bacon or sausage) to Steak and Eggs or a range of Bennys. This is hearty weekend food for the whole family, located in City Centre. Take out or dine-in service only.
Denny's: They serve breakfast all day, so there's never a rush to arrive. Favourites include the Build Your Own Grand Slam, Moons Over My Hammy, Sizzlin' Skillets and their milkshakes (no, it's never too early for ice cream). Take out or dine-in service only.
Miracle Waffle and Miracle Sandi Egg: Located in City Centre, offering up Belgian style waffles with all the fixings. However, what is really all the rage is their Sandi Egg aka Korean Egg Drop sandwich. You have to see it to believe it. Take out or dine-in service only.
Ricky's Country Restaurant: Serving breakfast until 4:00pm and lunch starting at 11:00am, you can time it just right to hit up all the menu favourites for everyone in your family. Take out or dine-in service only.
White Spot Coquitlam: This location in Sunwood Square on Lougheed Highway offers breakfast until 3 p.m., not to mention some tasty drink specials to jumpstart your weekend. Patio service available.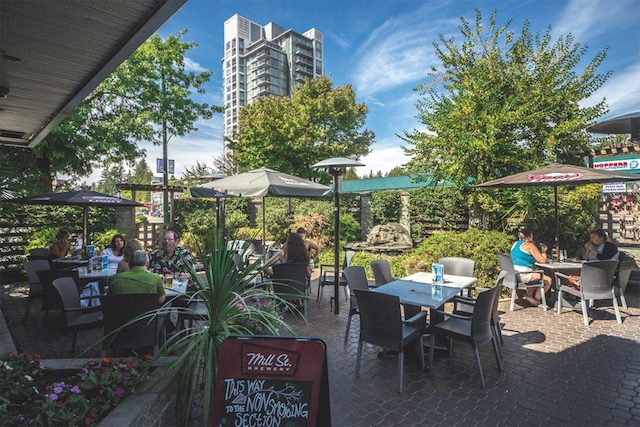 For a Classic Pub Brunch 
John B Neighbourhood Pub: This friendly local in Austin Heights opens at 10:00am on weekends, serving breakfast "happy hour" food until 12 noon. This is comfort food at its finest. Patio service available.
The Taphouse Coquitlam: How does Avocado Toast sound? Or Steak & Eggs? Classic Benny? The Taphouse serves weekend brunch until 2:00pm. so you can sleep in and eat late. Patio service available.
For a Great View
Fairways Grill & Patio at Westwood Plateau: Take in views of Mount Baker in a spectacular golf setting while sinking your teeth into an Eggs Benedict with Smoked Salmon. Their brunch menu features many of your favourites, served weekends and holidays until 2 p.m. Patio service available.
On & Off Kitchen + Bar: Coquitlam's newest spot for brunch is located at Austin Station off Mariner Way & Austin Ave steps from Mundy Park. With some of the best views in the city from its expansive patio and a creative and fresh menu this place is bound to become a local hot spot.
Sandwedges Cafe at Eaglequest Coquitlam: Kick back for views overlooking the course, with a menu featuring all day breakfasts (including a Build Your Own Omelet) or burgers and other lunch favourites, plus a kids' menu. They're fully licenced, too, in case your morning requires a Caesar. Patio service available.
Pair it with a Mimosa
Browns Socialhouse: Their brunch menu is available weekends and holidays, featuring cage-free eggs and house-made hollandaise sauce. Popular options include the Blueberry Compote Waffles, Prosciutto Eggs Benedict and the Fried Egg & Bacon Sandwich. On Sundays, Mimosas are $5 and Caesars are $1 off. They have two locations in Coquitlam: Town Centre and Schoolhouse. Patio service available at both.
Milestones: Their weekend brunch menu features the traditional favourites, not to mention a breakfast cocktail list. Yes, they have Mimosas and Caesars. For something different, try the Ruby Red Elderflower Mimosa. Patio service available.
Wild Fig: Located in the Executive Hotel Coquitlam, check out their Sunday brunch buffet and of course paired with a beverage makes for a great weekend.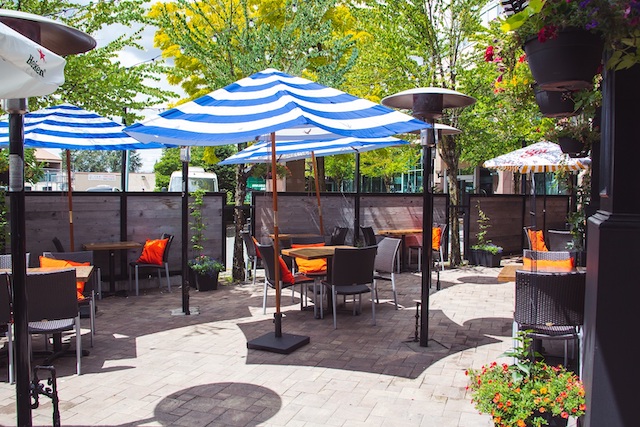 Taphouse Patio
Did we miss your favourite #CQ brunch spot? Tell us about it! And share your photos with @visitcoquitlam on social media tagging #explorecoquitlam. For even more restaurant ideas, check out Visit Coquitlam's Eat Drink page
Read more about Coquitlam