Explore the North of the Fraser Ale Trail throughout the month of February to collect stamps on your tasting passport.
The North of the Fraser Ale Trail Tasting Passport is one of five special passport promotions we are running in Metro Vancouver throughout February in collaboration with West Coast Food and TransLink. It's a fun way to explore the craft beer and distillery community and to feel good about supporting local small businesses, too. Pick up a passport at one of the 11 participating breweries and plan your tasting tour using this special Dine the Line transit itinerary.
Fill Your Passport to Win!
How do you participate?
Visit any of the participating businesses listed below from February 1-28, 2023 and ask for a stamp with purchase.
After collecting six unique stamps hand in the completed passport to be entered to win the Grand Prize Staycation package.
The random prize draw will take place following the contest period once all of the completed passports have been collected.
The Grand Prize 4-Night Staycation package includes:
Multiple entries encouraged!
The North of the Fraser Ale Trail — Four riverfront communities that share a diverse and dynamic beer scene.
The four municipalities of New Westminster, Burnaby, Coquitlam and Port Coquitlam are aligned in many ways — not just by geography, but also through their bustling craft breweries.
Before Vancouver even existed, New Westminster was a traditional meeting place along the Fraser River and a thriving capital city. A long love affair with beer began in 1860 and continued until 2005 when the local Labatt Brewery closed, but the tantalizing smell of malted barley and hops returned to New West in 2014 when Steel & Oak Brewing opened its doors.
The City of Burnaby might be Vancouver's little sibling, but it has its own dynamic brewery scene that sets it apart.  Meanwhile, the beer scene in Coquitlam and Port Coquitlam is one of the freshest and most interesting you will find anywhere in BC.
Mariner Brewing, Coquitlam (photo VisitCoquitlam.ca)
Drink Responsibly & Take Transit
The BC Ale Trail and all the businesses participating in these promotions are committed to ensuring that beer is enjoyed responsibly by those adults who choose to consume it. No one should drink alcohol, even in moderation, before operating a motor vehicle or engaging in other activities that involve attention and skill or physical risk. We encourage everyone to take transit as you visit the participating businesses.
To help you navigate your way, West Coast Food has created specialized Dine the Line transit itineraries that can be found by following the QR code on the passport or on their website.
TransLink Bonus
The North of the Fraser Ale Trail Tasting Passport also feature a TransLink Bonus square. Show your Compass Card or a receipt for a TransLink ride from the same day to get a stamp in the TransLink Bonus space. This will earn you a chance to win a one-month TransLink pass and a BC Ale Trail prize pack.
Where Can You Pick Up a Passport?
The North of the Fraser Ale Trail Tasting Passport is available for free at any of the participating breweries:
New Westminster:
Another Beer Co
Steel & Oak Brewing
Burnaby:
Dageraad Brewing
Steamworks Brewery
Studio Brewing
Coquitlam:
Mariner Brewing
Port Coquitlam:
Boardwalk Brewing
Northpaw Brewing
Patina Brewing & BBQ
Taylight Brewing
Tinhouse Brewing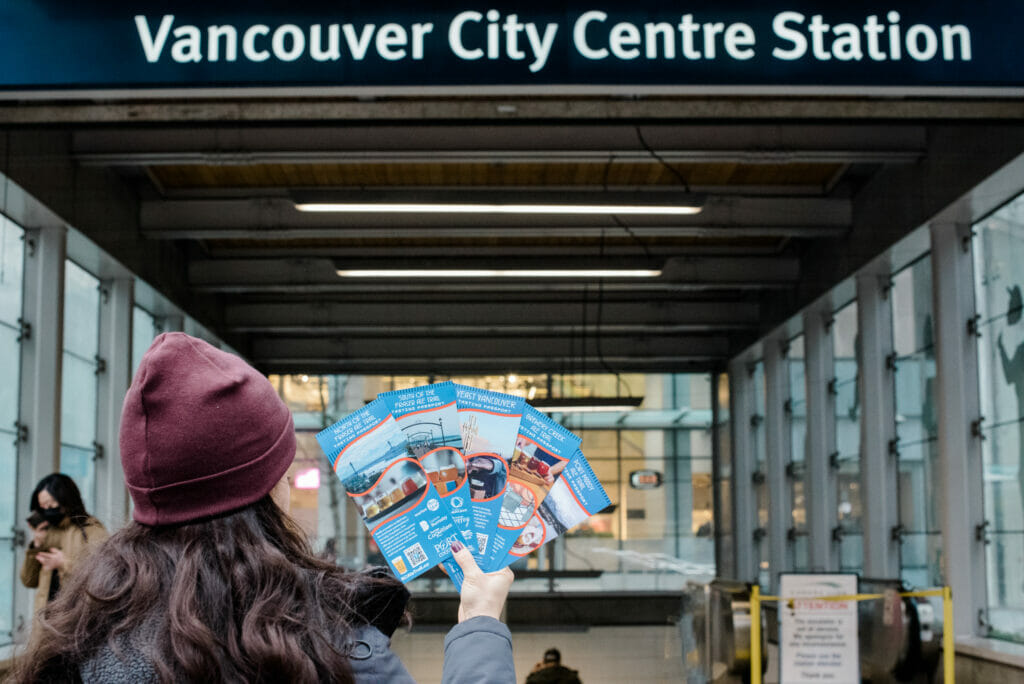 Embark on a Metro Vancouver Tasting Tour!
The North of the Fraser Ale Trail Tasting Passport is one of five tasting passport promotions running concurrently in Metro Vancouver throughout the month of February:
Read more about Coquitlam