Original article from Miss 604. 
This month may feel a little topsy-turvy, so why not bring the inside out in Coquitlam? We're finding the best of an unusual situation by suggesting ways to take the fun outdoors – safely. Here are some ideas to make the most of the last days of summer and embrace the changing of the seasons.
Bring the Inside Out in Coquitlam This Month
Kick back on a patio
Choose from more than two dozen patios in Coquitlam. Soak in the sunshine with a cold drink and some delicious food. Check out Visit Coquitlam's patio listings to scope out your options.
Taste the last licks of summer
Just because summer is coming to an end, it doesn't mean the icy desserts have to. But sunny days definitely call for ice cream and the delicious Korean dessert, shaved bingsoo. Place your order (here are some local faves) and take a walk to enjoy the changing colour of the leaves.
Celebrate the arts
This year's Kaleidoscope Arts Festival returns with an extra creative twist to meet physical distancing safety measures. Events will be spread out over two Saturdays (Saturday, September 26th and Saturday, October 3rd) both online and outdoors. You'll find a mix of pop-up events and pre-registered offerings. Watch Tourism Coquitlam's Facebook page and the City's website for details.
Savour a seasonal coffee

Fall tastes like pumpkin spice. And although the season doesn't technically begin until September 23rd, you'll find this flavour – and more – at many of our favourite Coquitlam cafés.

Order takeout for a park picnic

Arrange a fun picnic outing with friends or family in your bubble over takeout. For a new park to try, why not explore Blue Mountain Park, home to a cool sculpture rock garden and a mini waterfall that you can duck behind, which is a magical little spot for kids.
Buy fresh at the Farmers Market
Don't miss the Poirier Street Farmers Market, where you can pick up freshly picked produce and locally crafted food items. It's held weekly from 9:0)am to 1:00pm in the Dogwood Pavilion and Poirier Community Centre parking lots.
Explore a new neighbourhood
Your challenge, should you choose to accept it, is to explore each of the six neighbourhoods profiled as part of Coquitlam's 75 Days of Summer campaign. Pick a day, pick a neighbourhood, and go explore.
Go for a bike or hike
And finally, if you haven't explored Coquitlam's backyard lately, this season's moderate temperatures are ideal for great adventures. Why not go for a sunny bike ride or hike the trails less travelled?
Take your work outdoors
Whether you're working from home or a student working on an essay, your brain likely could use a refresh. Grab the laptop and find a quiet space to hook up to Coquitlam's free Wi-Fi located at many local parks and outdoor areas.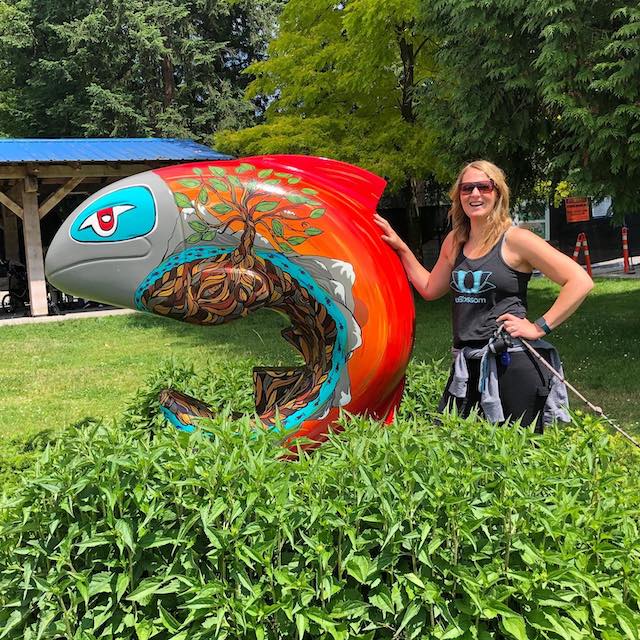 Spot the Salmon
The Spot the Salmon Scavenger Hunt is returning this year from September 25th October 05th. The six-foot-high salmon sculpture form was designed and fabricated by award-wining Squamish Nation artist Jody Broomfield. Each has been painted by a different artist. Get ready to search to win prizes from local businesses.
For even more great ideas for September go to VisitCoquitlam.ca
Read more about Coquitlam