Located on the edge of nature, it's no surprise that Coquitlam is prime for mountain biking. Burke Mountain and Eagle Mountain are on our doorstep, offering a variety of trails and a West Coast style of riding: thick roots, rocks and hand-built wooden features.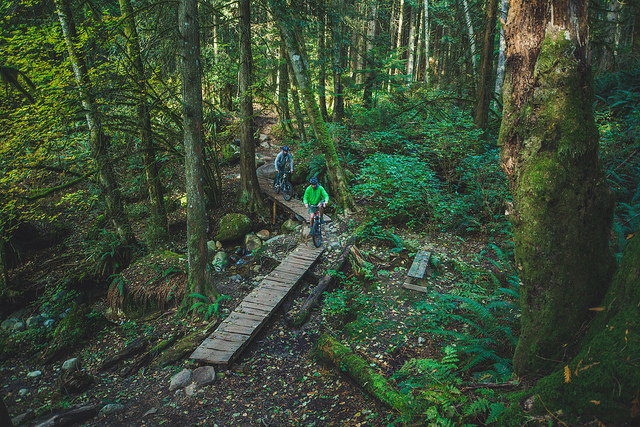 Whether you're an adventure seeker or more of a Sunday afternoon cruiser, Coquitlam's vast network of trails offers plenty of options for each riding style. So, where do you start?
1. Explore new terrain with a bike group
If the idea of heading out into the wilderness on your own sounds intimidating, the Tri-Cities Off Road Cycling Association (TORCA) offers guided mountain bike rides twice monthly. Riding is free if you sign up as a member for $20/year.
"Coquitlam has a lot to offer riders of varying abilities," says Ken Porter of TORCA. "It has everything from road and flat trails to more technical tracks. It suits everyone, from beginner to advanced riders – that's what's great about Coquitlam."
If road biking is more your speed, the Tri-City Cycling Club is "cheerfully accepting" new members. You are invited to try out a couple of rides with the club before deciding whether to join.
2. You can test your skills
Get off-road and test your abilities on some bike skills trails. One circuit located at Leigh Park (1254 Soball St.) is great for younger riders, with bridges and obstacles to test their skills. The bike skills circuits (Mariner Way and Chilko Dr.) at Mundy Park offer a variety of skill challenges and play host to the annual TORCA Take a Kid Mountain Biking Day.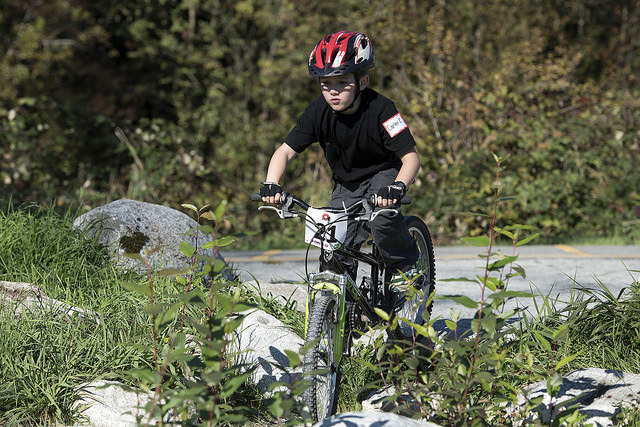 3. It's easy to get started 
When it comes to mountain biking, start with a basic bike (borrow or rent) to see if you like the sport. Don't forget your helmet and a map. If you're interested in commuting on two wheels, you can also start with a basic bike.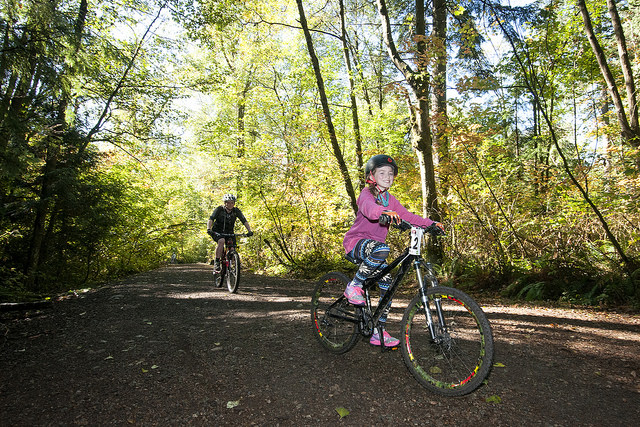 "You hardly need anything to start riding," advises Andrew Hartline of the Tri-Cities HUB. "An old mountain bike is fine to start commuting on, and it's a good idea to get some lights right away. After that, you can work out what else you'll need as you go."
4. Great events
5. Trails are accessible by transit
Thanks to SkyTrain's Evergreen Extension, you can now zip from downtown Vancouver to Coquitlam's forested trails in no time. Load up your bike and pick your destination.
Many of Coquitlam's trails – including those at Hoy Creek and Coquitlam River – are easy to reach by SkyTrain, and are generally flat and accessible for all levels.
Preschoolers will love the flat, paved, 1.2-kilometre circuit around Lafarge Lake (at Lafarge Lake-Douglas SkyTrain station), whereas older children on mountain bikes might prefer Mundy Park or the Riverview Forest terrain.
Adults in search of adventure can reach the base of both Burke and Eagle Mountain trail networks, although be prepared for a 15-minute uphill ride from the bus stop.
Getting there and around
Plan your route ahead of time by using TransLink's Trip Planner. Also, take note that some time restrictions might apply involving loading your bike on SkyTrain. Check on TransLink's website.
» Riding on roads? For bike route information and maps, visit coquitlam.ca/cycling »
» For trail maps, check out Trail Forks and coquitlam.ca/trails »